Hello Families,                                                       October 1, 2021
We would like to tell you about an exciting new organization that we are teaming up with called, Backpack Buddies. We did do this last year but wanted all our new families to know that it is available.  Backpack Buddies will give each child enough food for 6 meals plus snacks every second Friday. There is no cost to the families and food will be given out to your child at school starting on October 7thor 8th, 2021.
Community First Foundation
What is Backpack Buddies?  A charity dedicated to ensuring that children who rely on school meal programs Monday to Friday, so not spend the weekend without food.  Adequate nutrition is fundamental for a child's health, wellbeing and overall success.  Raising a generation of healthy set up for success kids, benefits us all, and can help break the cycle of poverty.
Backpack Buddies looks to:
Support Metro Vancouver, Vancouver Island and all of its diverse communities through food security programs.
Strengthen ties and break down barriers throughout the communities we serve.
Work with partners to help feed kids in their community.
Kids helping kids:  Backpack Buddies is founded on the belief that for kids to feel compassion and empathy, they need to understand and learn about the issues faced by others and then be provided with tangible opportunities to be part of the solution.
How does the program work?  Backpack Buddies works with donors to raise food and funds to fill bags with enough food for 6 meals plus snacks; enough food for the weekend.  We coordinate with your school to ensure that we deliver an adequate number of bags to meet the needs.  The bags of food are delivered to your school on Fridays, at no cost to you – they are then distributed to the children before the end of the school day, and are designated to fit into your child's backpack.
What's in a bag?  Each bag contains 2 breakfasts, 2 lunches, 2 dinners, snacks, juice box and some fresh fruit.  Some examples are: Chef Boyardee, Canned Beans, Campbell's Soup, Instant Oatmeal Packets, Juice Box, Goldfish Crackers, Fruit Strips
Hello Families,
Our School Photo Day will be on Monday, September 20th!
The photos will be taken in the library. You do not need to send money on this day as every student gets their photo taken and then a proof is sent home so you can decide if you would like to purchase the photos or not. There is no obligation to buy the photos.
Respectfully,
Ms. V. Ives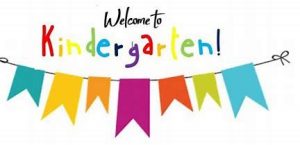 Dear Parents/Guardians of 2021/2022 Kindergarten students,
We are very pleased to welcome you and your child to Ruth King Elementary School. It was fantastic to see so many students and parents at our modified "Welcome to Kindergarten Orientation." We are looking forward to a fantastic year!
Please see the gradual entry details below. Your child will not be placed in their "official" class until Wednesday, September 15. This will allow plenty of time to get to know all of the students and create balanced classes that will meet the needs of all learners. This gradual entry will also give every child an opportunity to meet all four Kindergarten teachers and experience the classroom setting with a smaller group.  During the 3 gradual entry days, your child will participate in table top activities, story/carpet time, paper activities, gym time, recess, play time and a snack/meal.
Friday- September 10th
8:45-11:00 Last Name starts with A – M
12:00-2:15 Last Name starts with N – Z
Monday- September 13th
8:45-11:00 Last Name starts with N – Z
12:00-2:15 Last Name starts with A – M
Tuesday- September 14th
8:45-11:00 Last Name starts with A – M
12:00-2:15 Last Name starts with N – Z
Wednesday- September 15th (students will be placed in their official class on this day)
We are looking forward to seeing you soon!
Ms.Ives, Ms.Deichmann and the Kindergarten Team
SchoolToolsLetter_Parents_EN (1) (1)

Check out our BC SRC video on our website.
We hope that families will visit any of our 12 library locations (www.gvpl.ca) as we are open for browsing and borrowing with limited services. Library cards are free 😊
Here are some of the great activities happening over the summer months!
BC Summer Reading Club program for kids 12 and under.
Virtual online programs through the library including Magician Leif David
Five day Comic Camp with Indigenous Artist, Cole Pauls (registration required) Ages 8 – 11 and 12 – 18.
Read and Write Reviews (RAWR) for kids ages 10 – 18
Story Studio 8 week program -free for Victoria kids 12- 18
There are prizes to be won and Take and Make bags to, well…Take and Make!
Have a great summer and happy reading.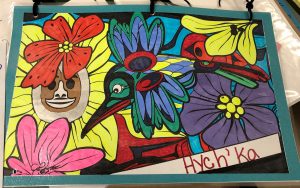 Grandma Lee,
Thank you for teaching us your language and taking the time to come to our school and educating our students and staff.
Much appreciated,
Ruth King King Elementary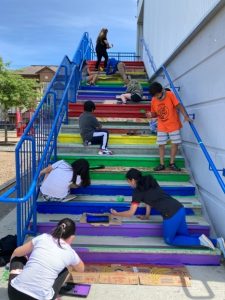 Since it was Rainbow Day  last Thursday, some of the grade 5 students decided to paint the staircase up to the primary hallway.  Here is a photo of the progress so far.  They still need to paint another coat, but it is looking great so far.
We had many field trips last week and will continue to have these this week as well.  Classes are going bowling, or swimming, or picnicking, or hiking etc.  Please make sure your child is prepared for their field trips.
This Week:
Monday – June 21st

·        National Indigenous Day – Story telling and bannock eating today

·        Visions of Turtle Island Performance 10:40am

·        Lunch Program – Hard-boiled egg, crackers and cheese, apples and carrots

Tuesday – June 22nd

·        Lunch Program – Macaroni & shredded cheese; red apple

·        Popcorn and Smencil Day for those who have ordered

·        Public Board Meeting – 7:00 pm

Wednesday – June 23rd  
·        Lunch Program – Chicken Caesar wrap; mandarin orange
Thursday – June 24th  
·        Lunch Program – 6 chicken nuggets with honey mustard sauce; banana
Friday – June 25th

·        Sprinkler Day – pack your child's swimwear for the afternoon

·        Ice Cream Truck will be visiting Ruth King – thank you to the PAC for organizing this added bonus for the students. Peanut Free, gluten free and dairy free options will be available.

·        Lunch Program — Pizza sub sandwich and Rice Krispies square.
Coming Up in the Last Week:
June 28 Monday Morning Meeting – Cohort 5 (Sabyan/Chan)
June 28 Grade 5 Celebration – 1:00 pm
June 29  Last Day of School – report cards go home.

What is National Indigenous Day?
National Indigenous Day is a time for all Canadians to recognize the unique heritage, the diverse cultures and outstanding contributions of First Nations, Inuit and Métis. Proclaimed by the Governor General in 1996, National Indigenous Day provides an opportunity to acknowledge the unique achievements of First Nations, Métis and Inuit in fields as diverse as agriculture, the environment, business and the arts.
June 21st was chosen for National Indigenous Day because it is also the summer solstice, the longest day of the year. For generations, many Indigenous communities have celebrated their culture and heritage on or near this day. National Indigenous Peoples Day (rcaanc-cirnac.gc.ca)
This year, in honour of the day, we would like to recognize the shared traditional territories of the Coast Salish, and Nuu-chah-nulth peoples to the West Coast, where we live on the South Island. National Indigenous Day is a phrase we use through culturally responsive education and the work we do with local First Nations daily.
We recognize those territories of the First Nations, and thank each Nation for welcoming us to the beauty of this land, sea and sky.
Thank you                                     English
Hych'ka                                         Coast Salish
Kleco Kleco                                   Nuu-chah-nulth
Gilakasla                                        Kwakwaka'wakw
Marsee                                           Métis
We're excited to announce that Ruth King school is a recipient of this year's Indigo Love of Reading Foundation #LiteracyFundGrant. With their help, we've been able to provide vital reading resources to our students to ensure every child has access to diverse and enriching books. Watch full video: https://bit.ly/3wrTNB5 Thank You #IndigoLoveofReading!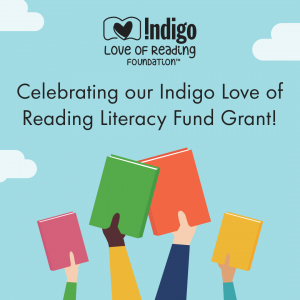 THURSDAY, JUNE 17th – Rainbow Day! Wear your rainbow colours!
Only twelve more days of school left for this year.  Enjoy the last couple of weeks everyone.
This Week:
Monday – June 14th  

·        Lunch Program – carrot cinnamon loaf; cheese and chicken quesadilla

·        Monday Morning Meeting – Cohort 6 (Grimwood/Deichmann/Verdel)

Tuesday – June 15th

·        Lunch Program – red apple; perogies shredded cheese and sour cream

·        Popcorn and Smencil Day for those who have ordered

Wednesday – June 16th   
·        Lunch Program – yogurt; open faced pizza bagel
Thursday – June 17th

·        Lunch Program – banana; hearty beef and bean chili with sweet corn; and cornbread

·        Rainbow Day  – wear your rainbow colours today

Friday – June 18th

·        Lunch Program – No nut granola bar; roast beef and cheddar sandwich with iceberg lettuce

·        White Spot Lunch – if you ordered
Reminders:
Please remember to do the Daily Health Check with your child and keep them home if your child is sick. This is still so important and we all really appreciate your support in keeping everyone healthy.
Please also remember to wear a mask at all times when you are on the playground with your child. Please remind care givers who are dropping off and picking up your child as well.   And please also stay safely on the non-paved areas away from the staff when they are picking up their classes.   We all really appreciate your cooperation.
If your child is going to be away from school, it is important to email your child's teacher to let them know directly.
Coming Up Next Month:
June 21 – National Indigenous Day – many activities planned
June 22 – Public Board Meeting – 7:00 pm
June 25 – Sprinkler Day – 12:40 to 2:23pm
June 28 – Grade 5 Celebration – 1:00 pm (virtual)
June 28 – Monday Morning Meeting – Cohort 5 (Sabyan/Chan) in the gym
June 29 – Last Day of School